Wine, Spirits & Beer
Wine
We take great pride in our wine and spirits selection. Located in the Bay Area near California's wine country, we're fortunate to draw upon an unrivaled selection of local hard-to-get wines, as well as all the top importers. We enjoy the challenge of unearthing the finest each region has to offer. Our staff spends several mornings each week tasting wine samples with suppliers. We often taste 15 or 20 wines before finding the one good enough to carry in our store.
Our popular Wine Club delivers a sophisticated gift that arrives every month, all year long — a wonderful surprise at the recipient's doorstep and a monthly reminder of your friendship and generosity. Club memberships are available for various prices ranges, including a "red only" wine club. To order, please contact our Wine Department at 415-388-8466 or stop by the market.
Our goal is to have the wine on hand for most any occasion, meal and budget. That often includes collectibles from the cellar, as well as closeout bargains. We get just as much fun out of discovering an amazing $10 wine as we do finding a dazzling $75 super premium wine.
Beer
Here at the Mill Valley Market, we understand that we are in the golden age of beer production. There has never been such a wide selection of amazing beers available than there is right now. We also know that there are many of you interested in trying the newest, most exciting beers from all of the world. So we pride ourselves on maintaining the most diverse selection of beers around, at present over 400 different beers from right here in Marin to imports from Nepal. Our beer staff is always more than happy to point you in the right direction for a good beer to pair with a meal, or something new to try. And we love to talk about beer so if you've tried something great that we don't have, we would love to hear about it.
Spirits
We also feature some incredible liquor items — small production Bourbons, single malt Scotchs, premium vodkas, gins, rums and tequilas. Whether you're looking for new brands, old standards, special sales or deluxe mixers, we're likely to have it in stock.
Online Shopping
Most of our large wine and spirits inventory is listed on our online Wine and Spirits shop. Our Staff Favorites section is just that — new discoveries we're especially excited about, items you absolutely shouldn't miss. And the ultimate honor we can bestow on a wine is to choose it as a Wine Club selection.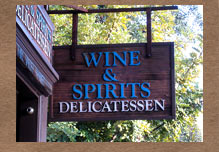 Our wine and spirits department offers an extensive selection
at competitive prices