Our sandwiches and prepared foods, including entrees, soups, salads, sauces and dressings are created in our kitchen by our chefs. They use the same high quality ingredients and products that we sell in our market.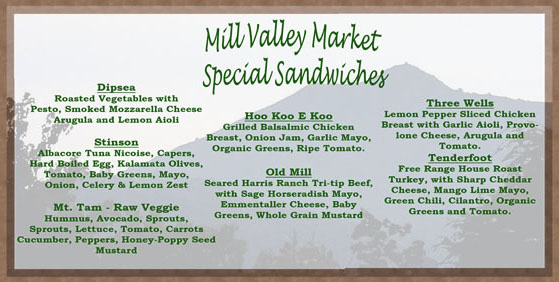 Sandwiches
Our deli sandwiches are made to order using high quality meats, cheeses, breads and condiments. We only use meats from top purveyors like Boars Head, Zoe's, Harris Ranch and Columbus. Please feel free to order your sandwich online, and we will have it ready for you on your arrival. Click here to place an order online.
Deli Meats
House Turkey
Turkey
Smoked Turkey
Ham
Pastrami
Turkey Pastrami
Corned Beef
Roast Beef
Salami
See all
Columbus Carving Turkey
Columbus Pork Loin Roast
Colubus Applewood Smoked Pork
Columbus Mortadella
Columbus Dry Salami
Columbus Genoa Salami
Columbus Pepper Salami
Columbus Toscano Salami
Boar's Head Oven Gold Turkey
Boar's Head Smoked Turkey
Boar's Head Sweet Sliced Ham
Boar's Head Corned Beef
Boar's Head Top Roud Pastrami
Boar's Head Bologna
Boar's Head Plain Liverwurst
Boar's Head Maple-Honey Turkey
Boar's Head Cracked Pepper Turkey
Boar's Head Salsalito Turkey
Boar's Head Turkey Pastrami
Boar's Head Cajun Spiced Turkey
Boar's Head Golden Classic Chicken
Boar's Head Blazing Buffalo Chicken
Boar's Head BBQ Basted Chicken
Boar's Head Lemon Pepper Chicken
Boar's Head Everroast Chicken
Boar's Head Black Forest Ham
Boar's Head Maple Honey Ham
Boar's Head Low Sodium Ham
House Roasted Free Range Turkey
House Roasted Harris Ranch Roast Beef
Parma Prosciutto
Domestic Prosciutto
Serrano Ham
Zoe's Meats Rosemary Garlic Turkey
Zoe's Meats Pistachio Mortadella
Madrange French Ham
Hebrew National Kosher Salami
Cheese
Provolone
Havarti
Dill Havarti
Smoked Gruyere
American
Pepper Jack
Rolls & Sliced Bread
Sourdough
Seeded Sourdough
Sweet Sourdough
Dutch Crunch
Multi Grain
Ciabatta
Wheat
Focaccia
Various Sliced Breads
Boxed Lunches
For those who want more than just a sandwich, we also offer two types of Boxed Lunches: 1) Complete Sandwich Boxed Lunch for $13.99 each; 2) Lite and Healthy Boxed Lunch for $13.99 each. Each boxed lunch includes plastic silverware and napkins. Minimum of four (4) Boxed Lunches per order. For more information, visit our Boxed Lunches page under Catering.