Community Support
Community support began on the very first day of business on July 4, 1929. Frank Canepa, in his suit and tie, was given a shovel and drafted to battle the Great Mill Valley Fire that was raging near town. For three days, Frank manned the fire line and helped other members of the community fight the fire. During the Depression, the store extended credit, made trades and used the barter system to help customers through the difficult times. The "house charge" program established at that time is still in use today.
All owners of the store have been and remain involved in civic and community projects. Jim Canepa created and hosted Mill Valley's fantastic Wine and Gourmet Food Tasting for 25 years. He also spent countless hours on volunteer projects with the Lions Club. We credit Bob Canepa with taking our community involvement to a higher level. He worked tirelessly helping the public school system's fundraising efforts for decades. These efforts led to the creation of the Mill Valley Schools Community Foundation and the Tam High Foundation.
Doug and David Canepa carry on the commitment to the Mill Valley community. They have given countless hours to youth sports including Little League baseball, Pop Warner football, CYO and Tam High girls basketball. They serve on numerous city panels vital to the well being of Mill Valley.
Our greatest achievement has been the creation of the SHOP & GIVE donation program. With the SHOP & GIVE program, we are able to reward customers for their patronage with financial support to their favorite non-profit organization. Over the years, SHOP & GIVE has enabled us to donate over $760,000 to local non-profits in support of our community.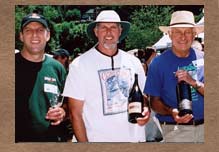 David, Doug and Jim Canepa supporting MIll Valley
Wine Event

[an error occurred while processing this directive]

[an error occurred while processing this directive]